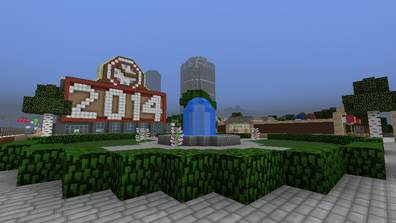 Rayson Square
is a public plaza located at the southern foot of
Pokechohoeca Crater Park
, at the intersection of
Rarity Street
and
Myrtle Avenue
. It is located on the footprint of the former Rayson Tower.
The square has been home to the Rayson Clock and New Year Sign since 2014, and was the annual home of the Adustelan Christmas Tree from its opening until 2017.
For the 2017-2018 Holiday season and beyond, the tree has been moved to Trade Center Adustelan, and Rayson Square is now home to an annual Holiday Ice Skating Rink.