Jurassic World: Dominion Dominates Fandom Wikis - The Loop
Play Sound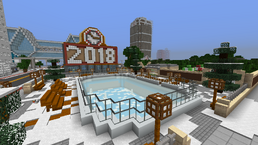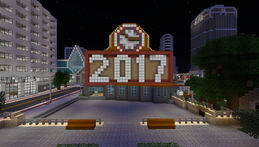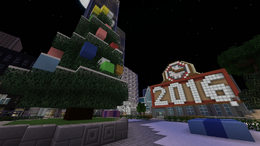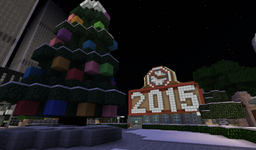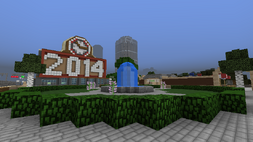 The Rayson Clock and New Year Sign is a permanent light/clock fixture and landmark in the City of Adustelan. Formerly simply known as the "Fluorescent New Year Sign", the sign has been moved several times since its original construction in 1972, and its most recent temporary location was on Mitchellson Street on the south boundary of City Center.
Before the 2014 New Year, the sign was integrated into a new Visitor Information building (run by the Adustelan Tourism Bureau) at Rayson Square in City Center. It currently serves as the permanent home for the sign.
In September 2014, the building was repainted and, in addition, given the historic 57-year-old clock from the then unfinished Clockwork Beige (the clock was famously stuck at 10:15 the entire time) after the building was shortened. It took about a month to integrate the clock into the sign's building. At 10:15 am CIST on November 7, 2014, power was finally given to the clock for the first time. The entire building was then given its present official name by the Adustelan Department of Parks and Recreation.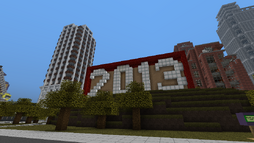 The sign was added to the Adustelan Register of Historic Places on September 5, 2013. Another distinction was appended on November 7, 2014 to include the clock as well.
Development in Minecraft
The sign was built by StaticAnnouncement an hour into the new year on January 1, 2012. It has traditionally been updated each year about halfway through December. Clockwork Beige's clock was moved on top of the sign on November 7, 2014.