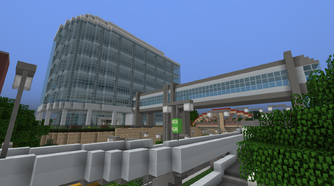 Pfeiffer Hall is a large academic building currently owned by Devoner University and located on its Quarry Pit Graduate Campus in the city of Adustelan.
The building was originally part of the now defunct Rilloq Community College system and was completed in 2005 and contains several lecture halls, the main campus library, and the offices of many department heads. When RCC ceased operations in 2018, the building along with all other buildings on the Quarry Pit campus were purchased by Devoner University. The building reopened on January 4, 2019.
The Pfeiffer Hall Time Capsule is also buried in the building's basement and is scheduled to be opened on March 2, 2105.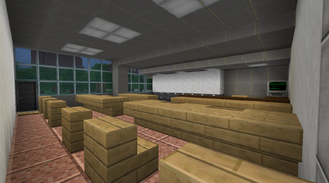 The building is connected to the Quarry Pit parking lots via a covered walkway starting on the building's second floor and crossing over the Colbert Freeway right after the Quarry Pit Interchange.
Development in Minecraft
The building was constructed in late October 2015 by StaticAnnouncement as the first building on the RCC Quarry Pit campus. The building became part of Devoner University as it did in the fictional history on January 4, 2019.