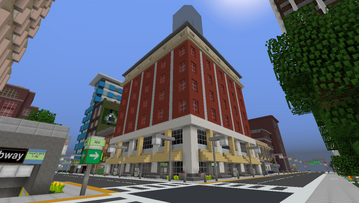 Offerman's Bike Parts and Repairs (often just called Offerman's) is a local Adustelan-based shop for bike purchases and maintenance. It is located in the bottom two floors of an apartment building located at 56 Myrtle Avenue in City Center, Adustelan.
The shop is one of the most popular bike shops on Carraway Island, given its location on a heavily traveled bike route, plus being adjacent to the historic Marigold Building.
Development in Minecraft
56 Myrtle Avenue was constructed by StaticAnnouncement early on November 10, 2014 and finished within an hour.