Mt. Steeple Tunnel
The Mt. Steeple Tunnel northern portal in Habercore, underneath Mt. Steeple, January 2016

General Information

Crosses
Mt. Steeple
Construction Started
1935
Completed
1938
Location
City of Adustelan (connects Habercore with the Village of Well Hither)
Minecraft Builder
StaticAnnouncement

Traffic Information

Carries
2 lanes of

Mt. Steeple Road

Toll
Free

Technical Details

Length
1,390 ft
Tunnel Clearance
14 ft
Longest tunnel in Adustelan?
Never
Primary Building Materials
Sandstone, Andesite

Other

Added to ARHP
Never
The Mount Steeple Tunnel is a tunnel in the City of Adustelan that cuts through the base of Mt. Steeple and its adjacent plateau to connect the neighborhood of Habercore with the Village of Well Hither, located within Well Hither Hills National Park.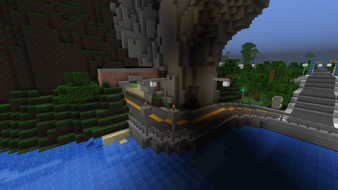 Development in Minecraft
The tunnel was dug by StaticAnnouncement on January 31, 2016.