First Assembly Bridge
First Assembly Bridge at night, July 2016

General Information

Bridge Type
Truss
Crosses
Jennaviva River
Construction Started
1965
Completed
1967
Location
City of Adustelan (connects the neighborhoods of Wazchanck Heights and South Adustelan)
Minecraft Builder
StaticAnnouncement

Traffic Information

Carries
6 lanes of
Toll
$3.50 each way ($2.75 with CarraWay Pass)

Technical Details

Longest Span
Unmeasured
Vertical Clearance
21 ft
Clearance Below
46 ft
Longest bridge in Adustelan?
Never
Primary Building Materials
Stone, Polished Diorite, Andesite, Iron, Dark Iron

Other

Added to ARHP
Never
The First Assembly Bridge is a truss bridge that carries six lanes of Intercounty C4 across the Jennaviva River, connecting the residential neighborhood of Wazchanck Heights with the suburban neighborhood of South Adustelan, both within the City of Adustelan.
As of 2016, the toll both ways for the bridge is $3.50, or $2.75 with the use of an CarraWay Pass transponder.
History (fictional)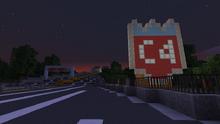 The bridge began construction in 1965 during the construction of the first alignment of Intercounty C4. The bridge, along with the rest of the highway, was completed in 1967.
The stretch of highway within the city was the first portion of the Intercounty to be completed. A 53-foot-tall statue of the Intercounty C4 shield was built and revealed during the dedication ceremony of this original segment in 1967, and still sits to this day at the southern entrance to the First Assembly Bridge (just north of the toll plaza).
Development in Minecraft
The bridge and toll plaza were built by StaticAnnouncement on July 24, 2016.