Jurassic World: Dominion Dominates Fandom Wikis - The Loop
Play Sound
Adustelan Metro Station
Crestman Hospital
Abandoned station entrance in December 2016; this entrance was eventually integrated into the new Souls station

Station Statistics

Lines
None (formerly B, D)
Location
Elijah S. Crestman Memorial Hospital
Station Status
Destroyed
Structure
Underground
Platforms
1
Rank
Unknown

Other Information

Opened
1966

D Service added 1972

Decommissioned
March 30, 2015
Minecraft Builder
StaticAnnouncement
Former/Other Names
Jennaviva-Ocean Avenue
Added to ARHP
Never

Station Succession

Next Station North
Embassies (Line D)
Next Station East
Regency (Line B)
Next Station West
Jennaviva Convention Center (Lines B/D)
Stations of the Adustelan Metro
This article is about the station that was destroyed on March 30, 2015. For the current station serving the current hospital, see Goldwater-Crestman Hospital (Adustelan Metro Station).
Crestman Hospital was a local station on the Adustelan Metro that was closed as of March 30, 2015. During operation it was serviced by Lines B and D.
The station opened in 1966 and was designed with a special emergency tunnel connection to the interior of the Elijah S. Crestman Memorial Hospital.
In a September 2014 article, Architecture Adustelan Magazine cited Crestman Hospital as being the ugliest station in the Adustelan Metro, calling it a "drab, dilapidated, run-down hellhole" where the "disgusting yellow walls tell patients [at the Hospital] just how important they are to them". A spokesperson for the Crestman Hospital commented saying it is not affiliated with the subway system and does not in any way influence its maintenance and that the metro-ER connection is only a means of last resort, or if a medical emergency happens to occur on the subway system.
The station has not been updated since the addition of the D Line in 1972. There were rumors about the station receiving a future facelift as part of a renovation project in the mid 2000s, but the station was not ultimately considered in the plans.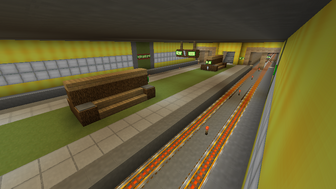 On March 30, 2015, the Crestman Hospital bombings destroyed much of the station.
It was announced in May 2015 that the remnants of the old station will be demolished and a replacement station will be made. It was set to open in January 2016, coinciding with the opening of Carrawayan Souls Memorial and Park, but has been set back due to delays. It opened on September 4, 2017.