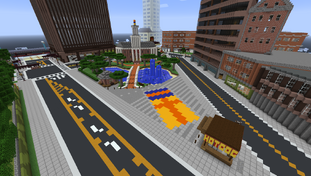 Constitution Square is a public square located in the neighborhood of East Kempton, Adustelan. It is bordered by Whitegale Avenue, Meridian Street, and East Kempton Road.
It was the site of the initial drafting of the Constitution of Carraway Island in 1930, which would later be officially signed at the square's Constitutional Hall (then named Whitegale Hall) on November 8, 1931. During this time period, the square in front of the hall was little more than a grassy field. It was developed in the early 1980s as a joint effort between the Adustelan Municipal Parks Department and the Adustelan Register of Historic Places.
Apart from the hall, the square is home to a lake, three fountains, a service kiosk, and a large triangular plaza area adorned with a concrete representation of the flag of Carraway Island. The square is popular with many vendors between May and October and serves as a permanent home of the "Hot Ottos' Hot Dogs" kiosk.
Development in Minecraft
The square was created by StaticAnnouncement in the early hours of July 21, 2018. The square was made in response to an online contest to build a public town square. StaticAnnouncement took the bronze prize in the contest for Constitution Square.