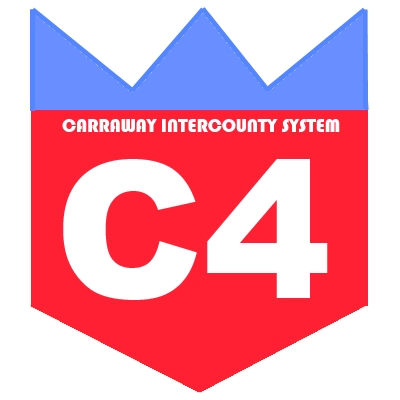 The Carraway Island Intercounty Limited Access Highway System (commonly shortened to the Intercounty Freeway System, the Intercounties, or simply the I-C's) is a network of freeways encompassing nearly all limited access roads maintained by the national government of Carraway Island.
The shields for Intercounty routes are similar to those used for the Dwight D. Eisenhower Interstate System in the United States, though the colors of the shield are switched and the overall shape of the shields is more angular.
Freeway numbers are designated with a "C" followed by a number. Parkways are simply designated on their shields by their beginning letter. The main factor distinguishing a parkway from a freeway is that a parkway is not open to commercial vehicles (an exception to this rule is the Werkheiser Viaduct, which despite being limited access and only open to non-commercial traffic is given the designation CIR 62V).