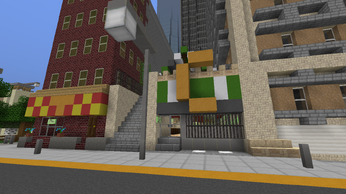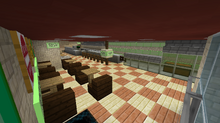 Carmichael's Delicatessen is a historic local eatery located at 30 Saint Lucia Avenue on the western boundary of City Center, Adustelan. It first opened in 1943.
The deli is located in a one story building sandwiched between 28 and 34 St. Lucia Avenue; the interior has several tables for eating in, and an outdoor eating area is located underneath a tent on the building's roof.
In a similar vein to Katz's Deli in New York City, Carmichael's is considered a local icon, however in Carmichael's case it is likely due to the relative rarity of full service delis on Carraway Island. The restaurant was voted the best deli in the country every year of its existence with the exception of 2012, when a new deli by the name of Hortense's opened in Nestem.
Development in Minecraft
The building for Carmichael's Deli was made by StaticAnnouncement as part of a new super-block development on St. Lucia Avenue. The entire block was made between December 28 and December 30, 2015.