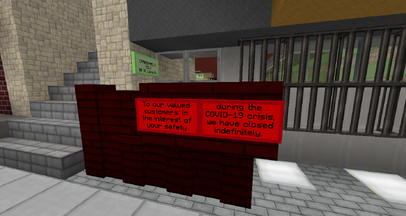 The COVID-19 pandemic in Carraway Island is part of an ongoing worldwide viral pandemic of coronavirus disease 2019 (COVID-19), a novel infectious disease caused by severe acute respiratory syndrome coronavirus 2 (SARS-CoV-2).
The nation's first case was confirmed in Adustelan on 17 March 2020; within a week cases had been confirmed in all five counties within the country, and in every city with a population higher than 20,000; by December, every major community in the country had cases. As of 1 December 2021, the federal government has reported 357,000 cases in the country including 5,200 deaths, though the total number of infected citizens has not been accurately determined or reported to the World Health Organization due to a scarcity of testing kits.
Drastic measures have been undertaken by the Carrawayan government to contain the spread of disease, especially in the City of Adustelan which processes 95% of international arrivals. On 20 March 2020, the president ordered a nationwide moratorium on large gatherings, as well as on rent/mortgage collection and employment termination without due cause. All non-essential businesses have been ordered closed, and citizens within the City of Adustelan have been ordered to shelter in place. The order was suspended on 1 July 2020 due to lowering numbers of cases, and was reinstated on 1 November 2020 to limit spread during the second wave.
The Carrawayan Bureau of Health and Safety issued an advisory in April 2020 against all non-essential travel to the United States, Canada, China, Iran, the United Kingdom, Ireland, and the Schengen Area within Europe. On 11 May 2020, the Carrawayan Congress passed an emergency motion to shut the border to incoming and outgoing travelers, with the exception of those who are deemed essential and cleared an extensive health check. The ban on traveling was lifted on 30 November 2020.
In late March 2020, protests defying the ban on large gatherings erupted, demanding a nationwide basic income until the pandemic has subsided; in August 2020, the Carrawayan Congress passed a bill that allocated funds for a monthly stimulus check of US$1,000 to every Carrawayan citizen over the age of 18. The payments ceased in April 2021.