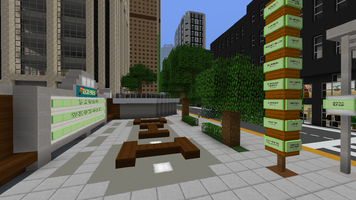 Bulletin Square is a small trapezoidal public plaza located at the southeast corner of the intersection of Rarity Street and Myrtle Avenue in City Center, Adustelan. It is a popular location for local organizations and talent groups to advertise local events.
A popular photo spot at the square is the over-15-foot-high pole pointing out the directions of Adustelan's largest neighborhoods.
The plaza was first constructed in June 1963 as a community gathering spot. It was redesigned in December 2017 to "serve as an area of collaboration and open communication".
Development in Minecraft
Bulletin Square was created in mid-2012 and currently serves as the spawn point for the Adustelan Minecraft server map, replacing the top of the VoyageAlpha Condominium Tower as such. The giant bulletin board is updated with information about progress of the builds in and around the city.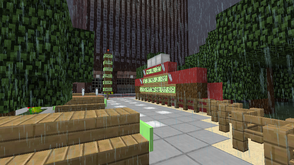 The square was completely redone by StaticAnnouncement on December 16, 2017, as the nearby Grenwald Financial Building was being constructed by FalconStorm.