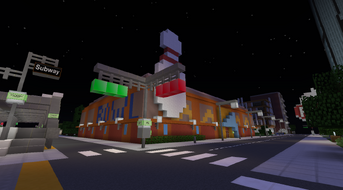 Bowl-a-Soup Lanes is a bowling alley located at the corner of Ocean Avenue and Mitchellson Street in the neighborhood of City Center, Adustelan. The alley opened in 1983.
The bowling alley contains 36 lanes split on two floors, an arcade, several kid's party rooms, and the adjacent Slippin' Jimmy's Bar and Grill.
Development in Minecraft
The first incarnation of Bowl-a-Soup Lanes was made in August 2011 by StaticAnnouncement. It was five stories tall and was originally located on Meridian Street. In late 2011 the bowling alley was blown up and moved to its final footprint at the corner of Ocean Avenue and Mitchellson Street. There it would be reduced to one story. Starting in early 2012, it was intended to be converted into a catering hall; the plans were indefinitely put on hold until the remnants of the building were finally demolished in early 2015.
The current two-story building began construction on April 17, 2015.
Community content is available under
CC-BY-SA
unless otherwise noted.