Jurassic World: Dominion Dominates Fandom Wikis - The Loop
Play Sound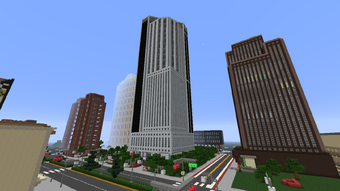 Bluval Corporation is a Carrawayan energy corporation that is engaged in every aspect of the oil and natural gas industries on Carraway Island. The company has been headquarted in 49 Ventana Avenue, a tall skyscraper located in City Center, Adustelan, since it opened in 2012.
The corporation maintains a franchise of gas stations on Carraway Island. The first one opened in 1968 at the corner of Ventana Avenue and Mitchellson Street in the Adustelan neighborhood of Dolanburg. With the exception of this first property, all gas stations also have a Go-Blu Market Convenience Store located adjacent to the gas pumps. Despite Bluval's monopolistic position in the energy sector, the corporation does not maintain a total monopoly on service stations in the country; it maintains a virtual duopoly with the second-largest service station operator in the country, Green Planet.
Current Gas Station Locations
131 Mitchellson Street- Dolanburg, Adustelan
53 Soundsurf Avenue- City Center, Adustelan
Corner of Bartholomew Avenue and Katonka Parkway- Norville, Adustelan
20 St. Lucia Avenue South- Jennaviva, Adustelan
Criticism and controversy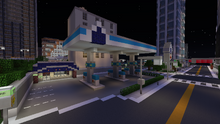 The corporation was the center of a national debate and international controversy between 1978 and 1989 with its planning and construction of the gated city of Jan Beach, which was intended to be occupied and visited only by the upper-class population of the island. Fearing devastation in the local economies of other cities on the island, including Adustelan (where Bluval is based), the Carrawayan Supreme Court ruled in Carraway Island v. Bluval (1986) that Bluval was in violation of socioeconomic anti-discrimination laws and barred Bluval from continuing progress with the city unless the borders were opened to all Carrawayan residents. Bluval ultimately succumbed to the threat and, when stage one was completed in 1989, left the borders of the city open.