The Adustelan Register of Historic Places (ARHP) is the City of Adustelan's official list of structures, parks, and districts deemed to be worth of preservation on the municipal level. The register was founded in 1932, and is currently based out of a 6-story building at 14 Meridian Street in the neighborhood of Quinton.
While the register has existed for over 80 years, the designation of Adustelan Historic Landmark was not adopted until 2012. Sites that carry this distinction are selected due to either their historic or otherwise intrinsic merit, and as such they are forbidden from being torn down unless they incur significant structural damage outside the realm of neglect. Each of these sites are demarcated by a blue plaque.
Landmarks
As of October 2, 2019, there were 36 locations in the City of Adustelan demarcated as Adustelan Historic Landmarks.
Headquarters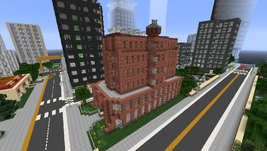 14 Meridian Street is a 6-story building located in Quinton, Adustelan. It was built in 1926, and has been used as the ARHP's headquarters since 1956.
The headquarters themselves were added to the register on September 11, 2016.
Development in Minecraft
The building that would eventually house the ARHP Headquarters was built by StaticAnnouncement in late 2011. It would take on the role of ARHP headquarters after the introduction of the blue landmark plaques in October 2012.