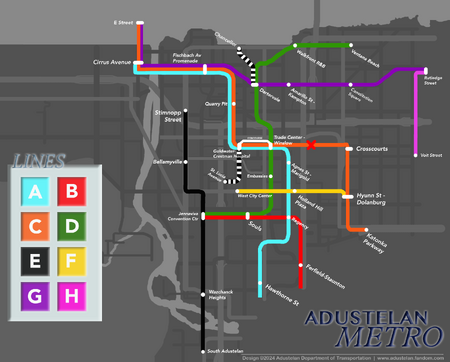 The Adustelan Metro System is an expansive rapid transit system located in the City of Adustelan and its immediate suburbs. It is operated by the Carraway Island Public Transit Authority. It is the only mass transit system on Carraway Island that runs 24 hours per day every day. It is also known for being the cleanest metro system in the Western Hemisphere.
The cost of a single ride on the Metro as of 2018 was $1.55 per ticket, however with a refillable VerqPass, obtainable at any security booth within the system, the discounted price is $1.00 per ride.
As of August 5, 2018, the system encompasses 42 stations (29 operating, 13 under construction), serviced by nine line services (eight main lines and one shuttle line). There are also a handful of abandoned and repurposed stations spread throughout the city.
See also