Jurassic World: Dominion Dominates Fandom Wikis - The Loop
Play Sound
Adustelan Bank Tower
Adustelan Bank Tower, October 2014

Note the newly applied reflective surface on the front and the reflection of the Marigold Building

General Information

Completed
1967
Location
53 Myrtle Avenue

City Center, Adustelan CW002

Minecraft Builder
StaticAnnouncement

Record Height

Tallest building in Adustelan?
Never

Technical Details

Height
326 ft
Floor Count
15
Building Purpose
Banking, Office
Primary Building Materials
Iron, Dark Iron, Stained Glass, Stained Clay, Obsidian

Other

Added to ARHP
October 8, 2012
The Adustelan Bank Tower is a highrise office building and bank located in City Center, Adustelan. As of 2017 it is the nineteenth-tallest building in the city. It is located in the northeastern portion of Holland Hill Plaza.
It is the headquarters of the First Bank of Adustelan and contains a branch location on the Werkheiser Street side of the building.
In Minecraft, the original model of the building stood from July 2011 to October 25, 2014. The current model was unveiled on October 27, 2014. It was the first Minecraft build to be built, demolished, then completely rebuilt.
History (fictional)
The Adustelan Bank Tower was built in 1967 on a parcel of land that was originally part of the Blightsinger Estate.
2012 Armed Robbery and Bombing
On October 7, 2012, at 6:36 pm, seven masked gunmen driving a green minivan stormed into the Werkheiser Street entrance of First Bank of Adustelan Branch #005. The first floor was almost full to capacity and not many people were willing to lay down on the floor. The gunmen, however, held their fire, directing their anger at the counter clerks and demanding they see the vault.
The clerks took the masked robbers to the vault, located within the upper floors of the Adustelan Bank Tower, and the gunmen got away with $23 million.
At 8:13 pm, an explosion occurred in the vault of the Bank Tower, destroying the vault, killing 2 people and injuring 7 more, and threatening the integrity of the entire building. Investigators confirmed the explosion was related to the prior robbery, and that the gunmen had possession of "sticky bombs" that went unnoticed by the bank employees in the vault after the robbery.
Rebuilding
The Bank Tower closed immediately following the robbery, and as a result of the bombing, was "closed indefinitely". To commemorate the people who were lost and to reemphasize the history of the building, the Bank Tower was added to the Adustelan Register of Historic Places the next day, on October 8, 2012.
After the exterior shell was completed and the integrity of the building was sound, the interior was gutted and redone entirely. The new vault was installed by July 2013, and as such, the bank was able to reopen.
Reconstruction of the Bank Tower was completed on December 15, 2013.
Development in Minecraft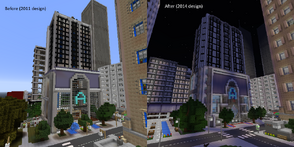 The original building was built by StaticAnnouncement from July to August 2011. It was the second building started in the city, second only to the Marigold Building, and its odd tapered back design led to it taking its own lot. The interior of the original building has never been fully completed even up to its complete demolition in October 2014, and it has been blown by TNT several times.
The current building began construction on October 25, 2014 and the exterior was modeled with a great deal of respect to the original while still being widened, heightened, and streamlined. The new exterior was completed by October 27.